Youth Coach
Nitish Prakash Surya
Live out your life.
Who is Nitish Prakash Surya ?
About Nitish Prakash Surya
Nitish Prakash Surya Is a Youth Coach, Motivational Speaker and an Author who is on a mission to Inspire millions of youth and shape their future. After completing his M.tech from NIT Bhopal & years of working in various construction companies, he found a wide skills gap between industry demand and education. He started working on the personality development of youth through various modes. He has done more than 75+ Seminars in colleges, Educational Institutions, KYP & PMKVY Centers. Nitish Prakash Surya is one of the Most Subscribed Motivational speakers in Bihar Jharkhand, with more than 86000 Subscribers on the YouTube community. He is the  author of Bestselling Book -"बदलाव सोच में, बदलाव जीवन में !"
"The secret of your future is hidden in your daily routine,"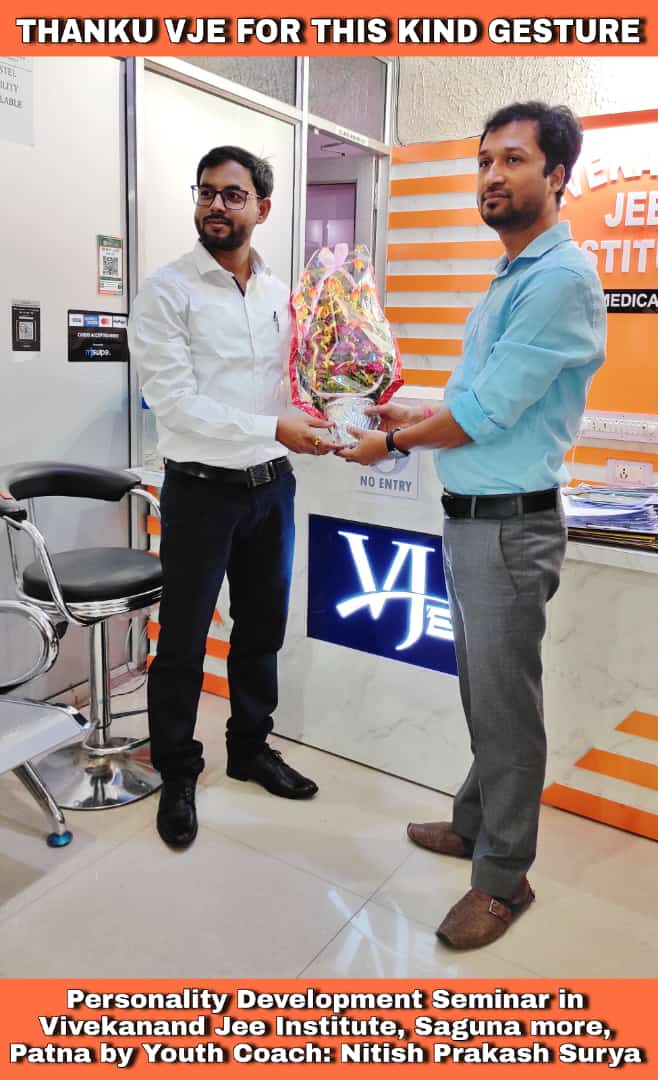 What's More? We Can Help You Succeed.
Sanjeev Kumar Bhukesh
This organization is doing very well, especially in the Hindi belt of India where youngsters are wasting their valuable period of time in government job preparation. very good keep it up, thanks for creating awareness about business and for developing an ecosystem of business in Hindi belt...thanks and regards
Still Confused what to do in Life?
Read Bestselling Book- "बदलाव सोच में, बदलाव जीवन में !"
What is Nitish Prakash Surya business?
Nitish Prakash Surya is a Youth coach, Motivational speaker and a Bestselling Author. He do Various types of training Seminar & workshop in schools, Colleges and Other Institution.
What is the Name of book he has written?
बदलाव सोच में, बदलाव जीवन में ! बदलाव सोच में, बदलाव जीवन में सिर्फ एक किताब नहीं है बल्कि एक मुहीम है जो युवाओं को सोचने का नया नजरिया दिखाती है।आप भी इस मुहिम का हिस्सा बने और अपने जीवन में सफलता और खुशियां पाएं।
How Can i get the Book?
The Book is available on all major e-shopping planform like Flipkart, amazon, from this Website etc. you can also read kindle version.
How can I get in touch with Nitish Prakash Surya?
Plz Drop Email at nitishprakashnpn@gmail.com or WhatsApp at 9034114389
How do you become a motivational speaker?
There are three things. Start with a subject you know well. Understand your target audience. Develop public speaking skills.
What forms of payment do you accept?
We accept all Visa, Mastercard, American Express, Discover, PayPal & UPI.
nitish prakash surya
Money Reputation and your Achievement is Byproduct. Your main product being a human is Only Consistent Effort.